Letter to Chiefs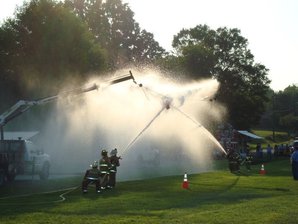 Chief,
We are glad to announce that Oakboro 4th of July Celebration, Inc. will be hosting the Firefighters' Competition once again this year. The event is Friday, June 30, 2017 at 6:30 pm. Listed below is some information on the event:
If you have members that are under the age of 18, they may participate but the members' legal guardian AND Fire Chief must sign the release form provided.
Departments may not bring more than two teams for each event and no more than 8 people total. This allows for two alternates.
All team members must be on your NC State Roster
(
bring your roster with you
)
The competition will start as close to 6:30 pm as possible, so we would like all participants to report to the front of Engine 443, which will be located at the intersection of College St and 4th St, by 6:00 pm.
Please inform me by email or phone if your department will or will not be attending our event and how many teams by June 15th, 2017. This is imperative for us so that we can get an idea of how many teams we will have, and finish everything up on our end.
Lastly, and most importantly, this is a FREE EVENT!!!
If you have any questions, feel free to email or call us.
Rodney Eury
704-791-1173
rce4401@gmail.com
Richard Coble
704-791-4616
rwc1978@ctc.net
---